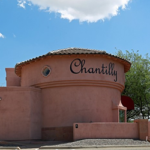 Circa 79 Salon of Tucson (Christopher and Martha Davison) purchased the Chantilly Tea Room & Gift Boutique, a 3,004-square-foot retail building located at 5185 N. Genematas Dr. in Tucson, from T. Read Holdings, LLC of Tucson (Tamara Read) for $600,000 ($200 PSF).
Built in 2002, the building is unique with arched walls, vaulted ceilings, an east facing patio/garden area, and up-stairs office. The Chantilly Tea Room & Gift Boutique closed in 2015.
The new owners will transition the location into a full service hair salon, Circa 79 that has been serving the Tucson community since 2008. Circa 79, currently located at 6021 N Oracle Road will be relocating from this location.
Christopher Davison is a graduate of the Toni & Guy Hairdressing Academy in Phoenix, Arizona where his cutting ability landed him an invitation to join the Toni & Guy Creative Team. While at the Academy, he was trained by the head of the creative team, A. K. Mack, in advance hair cutting techniques. Prior to this, Mr. Davison received a BA in Communication from Arizona State University ('06). He was recently certified in advanced cutting technique by the Vidal Sassoon Academy in Santa Monica, CA.
Aaron LaPrise, Retail Specialist with Cushman & Wakefield | PICOR handled this transaction.
For more information, LaPrise should be reached at 520.546.2770.
To learn more, see RED Comp #3900.