TUCSON, Arizona – Lillestrom II, LLC of Tucson (Swain Chapman, Managing Member) purchased the multitenant office building at 5920 & 5930 East Pima Street in Tucson for $1.8 million ($87 PSF).
The 20,140-square-foot office complex was built in two phases, 1986 and 2002, on 1.67 acres and features covered parking and a shared courtyard in a high-profile area of Tucson. The property was 95% occupied when it sold.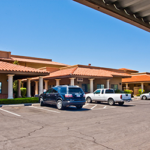 Swain Chapman who represented himself and the investment group said, "We saw good value and a unique opportunity in this office environment. We managed the project for years and it's a known commodity.  It's in great shape, has really good fundamentals, and fits into our paradigm of what we envision one segment of the future office market will look like.  This project will cater to the smaller user with open spaces ranging from 600- to 2,700-square-feet and 900-square-feet on average."
Andrew Sternberg with NAI Horizon of Tucson will continue to lease the property and Chapman Management Group will continue the property management.
Chapman Management Group is a local commercial real estate firm, with more than 30 years of investment brokerage, development and property management experience in Arizona, it has been an integral partner in the growth of Tucson. Its local experience, trusted advice and proven results have earned it a reputation as an essential investor resource for identifying, building and managing high quality investments.
For additional information, Chapman can be reached at 520.867.8711 and Sternberg should be contacted at 520.729.1694.
To learn more, see RED Comp #5156.