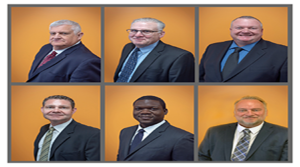 Additions will grow company's geographic presence and bandwidth
PHOENIX, Arizona – Less than a year after its formation, boutique metro Phoenix brokerage firm Citywide Commercial has expanded with six new brokerage team members. The additions allow the company, which specializes in commercial real estate properties of all types and sizes, to expand by geographic presence and bandwidth.
"Our goal for now is to double in size on an annual basis," said Citywide Commercial Founder and Managing Principal Todd Hamilton. "Strong market projections have made this not only a realistic goal but also a gratifying one to achieve, particularly when it means adding such knowledgeable and well-respected brokers to our team. They share the same passion for customer service, and have come on board ready to expand our collective presence in the Valley."
The new members of the Citywide Commercial team are:
Bo Sederstrom, Senior Sales & Leasing Agent. A 30-year industry veteran, Sederstrom specializes in tenant and landlord representation, most recently including negotiations for an almost $50 million life science lease in metro Phoenix. He is a member of the ASU WP Carey College of Business Alumni Board of Directors, ASU Presidents Club and Sigma Alpha Epsilon Phoenix Alumni Association Board of Directors, and is Past President of the City of Phoenix Industrial Development Authority.
Jack Scanlan, Associate Broker. Scanlan offers more than 42 years of corporate ownership and sales expertise. He specializes in industrial warehouse leasing and provides professional representation for commercial building owners. Scanlan's primary focus is the metro Phoenix West Valley.
Scott Wiley, Associate Broker. Wiley's career spans 17 years and more than $500 million in transactions, with a specialty focus on industrial properties. He holds a bachelor's degree in computer systems and is a U.S. Army veteran, with service as a Battlefield Control Communication Specialist.
Scott Craig, Sales & Leasing Agent. Specializing in the Northeast Valley with a focus on the Scottsdale Airpark, Craig applies more than 20 years of small- and mid-size business expertise to locate companies in well-matched office, retail and industrial space. He holds a bachelor's degree in Science in Information Systems and a master's degree in management information systems.
Garrette Golding, Sales & Leasing Agent. Golding has been leasing and selling commercial real estate since 2017. Prior to this, he worked for a large financial services company where he supported independent advisory firms with $5 billion in assets under management. He holds Series 7, Series 66 and Series 9 licenses.
Ken Schawl, Sales & Leasing Agent. Ken specializes in industrial sales and leasing for tenants and landlords, with a focus on the Southwest Valley submarket including Avondale, Glendale, Goodyear, Tolleson and West Phoenix. Prior to joining Citywide, Ken served as a broker for Phoenix West Commercial.
Citywide Commercial Real Estate is located in the heart of the Camelback Corridor at 2122 E. Highland Ave., Suite 335, in Phoenix. For additional information, contact the company at 602.313.1000 or www.citywidecre.com.