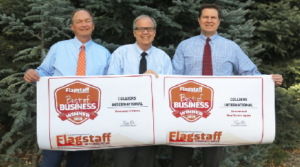 Company Recognized as Top Commercial Real Estate Agent and Business Broker
Phoenix, Arizona – Colliers International in Arizona's Flagstaff office has won two Best of Business 2019 awards from the Flagstaff Business News. They were recognized as the area's top Commercial Real Estate Agent and the leading Business Broker.
"This award brings great pride because it is the result of feedback from our clients and the citizens of Northern Arizona," said Kevin Call, CPA, vice president of Northern Arizona operations for Colliers International. "Our team works tirelessly to provide the highest level of professional services to our community and we appreciate everyone who provided a vote of confidence about our efforts."
Colliers International in Arizona established its Flagstaff office in 2018. The Flagstaff office provides commercial real estate brokerage, development, sales, and leasing, along with strategic advice and marketing to business sellers and buyers.
Flagstaff Business News covers business news in the communities of Flagstaff, Sedona, Williams and Winslow. The publication conducts its Best of Business awards program each year, which allows residents of the area ability to vote for what they view as the best businesses in the area.