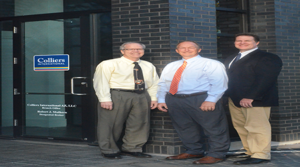 Phoenix, Arizona -- Colliers International in Arizona has expanded and relocated its Flagstaff office to a new location at 1150 N. San Francisco St.  Colliers International, an internationally recognized, full-service real estate company, established a Flagstaff office in 2018.
Colliers International operates offices in Phoenix, Scottsdale and Flagstaff.  The company's professionals serve clients across a broad range of property and business types. Colliers International leased 2,500 square feet of space and took occupancy of the new suite October 1.  The Flagstaff team includes associate broker Dennis Kelly, Kevin Call and Stephen Thompson.
"We're excited about the possibilities in our new location", said Dennis Kelly, senior vice president, "The building is more expansive, allowing us to provide a broader range of services including conference meeting space for clients and professional association groups."
Kelly has more than 40 years of real estate brokerage and management experience, focusing exclusively on commercial real estate brokerage, development, sales, leasing and property management for the past 15 years.
Call specializes in business and commercial property brokerage across Northern Arizona. With more than 30 years of CPA experience, Kevin serves as a strategic advisor to business sellers and buyers, guiding them through the often-complex process of completing successful business sale transactions.
Thompson specializes in the sale and leasing of commercial properties across Northern Arizona, representing buyers, sellers, landlords and tenants. He was previously with a large regional full-service law firm where his areas of focus included commercial real estate law.