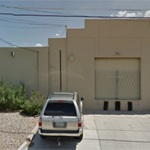 The industrial property at 24, 26, 38 & 44 East Flores Street in Central Tucson sold for $540,000 ($74 PSF) to Tucson Shared Kitchen LLC of Phoenix (Kimberly Kammann, manager).
The property consists of two buildings, a 2,500-square-foot warehouse / storage building (built 1953) and a 4,825-square-foot commercial kitchen, built 1951 The kitchen included some equipment that was included in the sale price. Fixtures included a large stainless steel vent hood, fire suppression system, grease trap, two mop drains, and two walk-in coolers, one with freezer.
Property sits on .63 acre at Flores and Stone in Central Tucson.
The buyer purchased the property to continue to operate it as a commercial kitchen.
John Hamner, CCIM, and Gary Best, CCIM, with Keller Williams Southern Arizona in Tucson represented the seller, R & G Food Services, Inc that was also an owner user dba Latitude Kitchen and Catering prior to sale.
Dean Cotlow of Cotlow Company in Tucson represented the buyer.
For more information, Hamner can be reached at 520.907.0030 and Best is at 520.444.0799. Cotlow should be contacted at 520.881.8180.
To learn more, see RED Comp #3715.