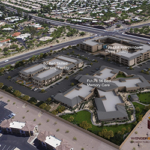 TUCSON, Arizona — CopperSands Inc. of Phoenix (Ron Leach, Sr. Vice-President) purchased 9.25 acres at the northwest corner of Cortaro Farms and Shannon Road in Tucson for $1.675 million ($4.16 PSF).
The property was purchased for construction of CopperRidge Healthcare Campus, a Skilled Nursing Care Campus for seniors. The company currently owns and operates 1,000-beds in multiple facilities in metro Phoenix and is expanding regionally into Tucson, Las Vegas, and Texas.
Charles "Ched" Eckart, Jr. of Red Hawk Partners in Phoenix represents the buyer / developer, and explained the company's site selection process. "Due to the specialized use, as a skilled care campus by CopperSands, we first seek 8-12 acre parcels for the campus environment. We then conduct a market study of the area to determine need, vicinity to hospital(s) and nearness to a major thoroughfare," said Eckart. "We had three sites selected in Tucson and this was the company's first choice."
The process took an 11-month escrow to finalize and also secure a special use zoning overlay from Pima County for hillside development and as a skilled care nursing facility.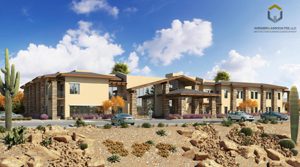 Phase I designs include 150,000-square-feet, with over 250,000-square-feet in phase 2 completion. Phase I will have an 80-unit independent living facility, with 40 additional units in phase 2, for a total of 120-units when complete. In addition, there will be a 60-bed skilled nursing facility in phase I and a 56-bed memory care facility to come in phase 2.
CopperSands provides short term rehab, long term care, and specialty care such as memory care, osteopathic and respiratory care programs within its skilled nursing program that provides a high standard of individualized care and commitment to outstanding results and excellent quality of senior living care.
Gary Wenger of Wenger & Associates of Phoenix is developer and Architect for the project. General Contractor will be FCI Constructors, Inc. of Grand Junction, Colorado and Glendale, AZ.
Rick Borane of the Volk Company in Tucson represented the seller, Stonesfair Financial Corporation in the sale.
For additional information, Eckart should be reached at 480.236.2588 and Borane should be contacted at 520.326.3200.
To learn more, see November 22, 2016 RED Comp #4322