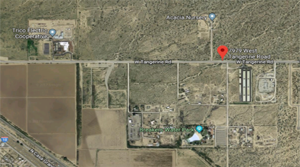 MARANA, ARIZONA – CPM LABFAB, Inc. (Kim & Kerry Bergman, principals) purchased 5-acres of HI zoned land at 7979 W Tangerine Road in Marana for construction of a new manufacturing facility. LABFAB fabricates standard and custom modular laboratories for general chemistry, vivarium or BSL use. Virtually any size requirement can be met. Often the fabrication, delivery and start-up is completed in a matter of just a few months, allowing the users to be "up and running" very quickly.
Originally located in Colorado, CPM LABFAB recognized the need for a modular laboratory that was built of quality materials, could be built quickly and was cost-effective for the customer. After many successful years in Colorado CPM relocated its operations to Tucson, Arizona in 2004 to take advantage of the excellent labor force and favorable working conditions necessary to fabricate laboratories in a timely manner.
Currently located on Casa Grande Hwy in Tucson, the company will relocate operations once building is complete. The property commanded a sale price of $475,000 ($95,000 per acre), with electricity in the road.
Tom DeSollar of Arizona First Properties in Tucson represented the seller, Edge Investors, LLC of Reno, NV. The buyer was self-represented. DeSollar represents several other properties in the area, on Breakers Road, and across the road at the Marana Technology Center where International Towers is headquartered.
For more information, DeSollar should be reached at 520.400.2732.