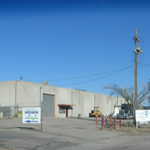 Creative Machines (Joseph O'Connell, CEO) the Tucson-based, worldwide design and fabrication firm, is planning a suitable celebration when it relocates into its expansive new headquarters at 4001 E Irvington Road this spring. While details are still being finalized, it's safe to say that the guest list will include Tom Hunt and Bob Davis of Tango Commercial Real Estate, who represented O'Connell in the $1.56 million ($21 PSF) purchase of the 75,000-square-foot building, located along Irvington Road, east of Alvernon Way.
Creative Machines intends to utilize 65,304-square-feet after completing $850,000 in improvements, currently underway. The remainder of the property, including 8,119-square-feet of office space and 1,577-square-feet of industrial/warehouse space, has been relisted with Tango.
"With the momentum initiated by Creative Machines' purchase and improvements, this complementary site offers exciting potential for the right user," said Hunt, who scoured the city with O'Connell looking for just the right spot.
"I enjoyed working with Tom and Bob at Tango," said O'Connell. "They're knowledgeable, professional and prompt. But what I really appreciated was the chance to benefit from their judgment. The more time I spend in business, the more I value that elusive quality of judgment, regardless of the field."
O'Connell founded Creative Machines in 1995 to design and fabricate interactive exhibits for museums around the world and began making public art in 2004. He chose to headquarter in Tucson for its size, university, deep intellectual capital, healthy arts community and critical mass along with affordable commercial real estate prices. Last year, the company landed its largest commission to date, a $1.4 million sculpture called Wings over Water, which will be installed in Houston in time for Superbowl LI.
Currently operating out of 10,000-square-feet off South Country Club, O'Connell and his team of 30+ engineers, artists and fabricators will have plenty of elbow room in their new space and, more importantly, the ability to take on a lot more work.
"We like to help entrepreneurs like Joe grow their businesses, create jobs and improve the Tucson economy," said Hunt. "Working with creative and successful entrepreneurs that bring dollars into the Tucson economy is what Tango is all about."
The seller, SCB Properties of San Diego, CA was represented by Pat Welchert and Rob Glaser of Cushman & Wakefield Picor in Tucson.
 For additional information Welchert can be contacted at 520.546.2748 and Glaser is at 520.546.2707. Davis can be reached at 520.906.5682 and Hunt should be contacted at 520.288.1231.
To learn more about this transaction, see RED Comp #3526.