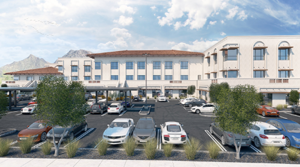 George Oliver eyes October delivery for first tenant spaces, spec suites at $17 million renovation
PHOENIX, Arizona – The first phase of creative office space at George Oliver's $17 million CASA redevelopment in Phoenix is heading toward an October completion with a host of pre-lease commitments in tow. The project, which totals 181,188 square feet of Class A office space, sits in the heart of Phoenix's popular Uptown neighborhood.
Located off of the Piestewa Freeway/State Route 51 and Northern Avenue at 7878 N. 16th Street, CASA is transforming a 1989-built commercial property into next-generation modernized office space. The building mixes rich Spanish architecture with lifestyle amenities designed around a focus on health and wellness to serve its tenants.
Confirmed pre-lease commitments at CASA include Rockwell Automation (26,805-square-feet), The Money Store (7,512-square-feet), Olsson (7,199-square-feet), Phoenix Association of Realtors (3,957-square-feet) and North & Co. and affiliates (leasing eight co-working suites). Local favorite Kaleidoscope Juice has also committed to a lease to operate an on-site café and lounge serving healthy food, coffee and juice.
"CASA is the next generation of office space," said Curt Kremer, Founder and Managing Partner of Phoenix-based George Oliver. "That begins with flexible, modern workspace and extends into a carefully curated mix of amenities – all with the goal of creating a working community focused on the success and wellness of its tenants."
Among the unique touches at CASA are transformed lobbies, a 60-guest conference center, a wellness center with yoga room, fitness center, on-site meditation room, elevated walking path, library, car charging stations and dog park. Two centralized courtyards with water features and seating serve as hubs for relaxation and collaboration. CASA also includes a two-story dining experience with dedicated food truck parking, shaded outdoor dining and outdoor games and lounge areas.
In November, George Oliver is also scheduled to complete its self-branded and operated coworking space at CASA, with rents from $800 to $2,900 per month. Its users will benefit from fully furnished suites with access to shared breakrooms, a private coworking lounge and multiple conference rooms. In addition to the coworking, the company will also deliver three spec suites at CASA ranging from 2,250-  to 8,663-square-feet and with fully furnished, move-in-ready options and popular comforts like open break rooms, glass offices, collaborative spaces and timeless custom finishes.
George Oliver purchased the CASA building, previously known as Catalina Terraces, in December 2018. The project sits at the base of the North Mountain Phoenix Preserve, minutes from the Piestewa Freeway/State Route 51 and with more than 13,700 apartments and 200 restaurants/bars within a three mile radius.
Ryan Timpani and Todd Noel of Colliers International are CASA's exclusive leasing brokers. Arcadia Management manages the property and staffs an on-site tenant concierge. RSG Builders is the general contractor. Western Alliance Bank is the project lender. For more, visit www.uptowncasa.com.