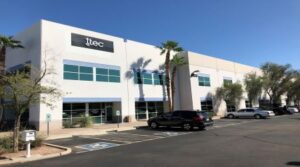 Property well located in nationally renowned Silicon Desert area
TEMPE, Ariz.– Cushman & Wakefield announced today the firm has brokered the sale of a short term leased, single-tenant flex office building totaling 56,240 square feet located in Tempe, Arizona. The property is 100% net-leased to a global customer technology and services company until December of 2022. The asset was acquired by Salt Lake City, UT-based Kimwell Corporation for $7.8 million. The seller was ViaWest Group based in Phoenix, AZ.
Cushman & Wakefield's Eric Wichterman, Mike Coover and Steve Lindley brokered the transaction.
"This was a desirable investment opportunity that generated a high level of interest. The acquisition combines a high level of near-term cash flow, being fully leased to a multinational credit tenant, with ample upside potential through securing long-term tenancy upon the expiration of the current lease," said Eric Wichterman, Executive Managing Director. "The city of Tempe—and flex space in the Southeast Valley—possess several key attributes that major corporate office users desire, resulting in what should prove to be ideal market conditions when the lease expires in December of 2022."

"As always the Cushman team did an excellent job of effectuating a win-win situation for buyer and seller," said Steven Schwarz, Founding Partner of ViaWest Group. "We believe Kimwell is buying a great property, and we look forward to continuing our newfound relationship with them by managing the property for them going forward."
Located at 8123 South Hardy Drive, the single-story flex office building was constructed in 1998 and offers rare garage parking at a generous ratio of 7 spaces per 1,000 square feet. The property provides direct access to Interstate-10 via a full-diamond interchange at Elliot Road, just one-mile west.