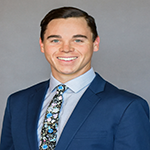 TUCSON, ARIZONA — Cushman & Wakefield | PICOR's multifamily brokerage team welcomed Conrad Martinez in October 2019.   Martinez is a graduate of New Mexico State University with a major in marketing and a minor in the PGA of America Professional Golf Managements Program.  His three-year golf career included playing professionally in the United States, Europe, Canada, Mexico, Latin America, and competing in over 80 professional events.
"I'm excited to be joining the Cushman & Wakefield | PICOR team and to be learning from Allan Mendelsberg," said Martinez.  "I'll be taking my hardworking mentality and competitive nature to the commercial real estate market and networking with as many people as I can."
Martinez enjoys spending time with family and friends, boating, hiking and volunteering at the First Tee of Tucson and the Community Food Bank of Arizona.