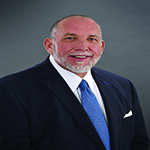 PHOENIX, Arizona – Cushman & Wakefield announced that Larry Downey, Vice Chairman at Cushman & Wakefield in Phoenix, has been awarded the designation of Counselor of Real Estate (CRE) by The Counselors of Real Estate organization. The designation is awarded to prominent real estate practitioners recognized for their expertise, experience, and ethics in providing advice that influences real estate decisions.
"I am honored to be selected as a member of this extraordinary organization. It's members are some of the most respected real estate specialists in the industry and I am proud to have been awarded the prestigious CRE designation," stated Downey.
A stringent process of selection, which is by invitation only, ensures that individuals awarded the CRE credential have attained the highest levels of expertise and achievement in their real estate specialty, particularly in the provision of sophisticated advice and high-level problem solving.
A member of Cushman & Wakefield's Tenant Advisory group, Downey has been involved in over 4,500 lease and sale transactions totaling more than 100 million square feet (MSF), in excess of $6 billion in total consideration. He has represented prominent Arizona-based companies and national corporations in their multi-market corporate real estate decisions. Downey has closed more than 4.5 MSF of multi-market lease transactions around the country, serving as a single point of contact for companies while working collaboratively with his national colleagues within the Cushman & Wakefield platform.
According to Julie Melander, CRE, 2019 Chair, "Through The Counselors, we assist one another and emphasize the value of the services of the real estate counselor to the public. Members are pledged to maintain the highest standards of professional conduct and service in the field of real estate counseling."