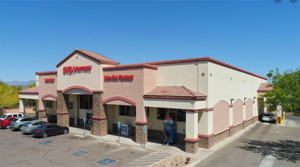 Marana, Arizona – The CVS store at 7740 North Cortaro in Marana sold in a net lease sale for $5.8 million ($403 PSF). Marana Zero I, II and III of Woburn, MA were the sellers and LSD Enterprises of San Francisco was the buyer.
The 14,375-square-foot CVS Pharmacy was built in 2003 on 2 acres at the southeast corner of Cortaro and Silverbell Roads in Marana.
CVS Pharmacy is currently the second largest retail pharmacy in the US, behind Walgreens and continues to deliver new net lease properties to the market. CVS also now boasts a higher credit rating than Walgreens (historically CVS had a lower credit rating than Walgreens) and is considered investment grade with a stable outlook, which improves the value and marketability of corporate guaranteed net lease properties.
Traditionally, CVS leases featured a flat rental structure, however, recently prime locations have been able to demand rental bumps during options – making these properties highly sought after by the net lease investor. The attraction to the investor is likely due to the stability and profitability of the Pharmacy segment as well as the investment grade credit of CVS. The real estate also plays an important driver in these assets, as they are almost exclusively hard corner locations with premiere visibility, and generous access on 1.00 – 2.00 acres of land.
CVS Health Corporation is a publicly traded company on the New York Stock Exchange and has been in business for more than 50 years with the start of first store in Lowell, Massachusetts.
CVS Health Corporation includes CVS Pharmacy which approximately has 9,700 retail pharmacies, CVS MinuteClinic with more than 1,100 walk-in health care clinics, CVS Caremark, a leading pharmacy benefits manager with more than 90 million plan members, and CVS Specialty, a dedicated senior pharmacy care business serving more than one million patients per year, and expanding specialty pharmacy services.
Ryan Sarbinoff with Marcus & Millichap in Phoenix and Zev Forrest with Marchus & Millichip in Encino handled the transaction.
For more information, Sarbinoff can be reached at 602.687.6750 and Forrest is at 818.212.2413.
To learn more, see RED Comp #6988.