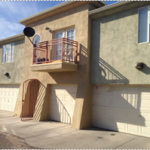 ABI Multifamily, a dedicated multifamily brokerage and advisory services firm, is pleased to announce the sale of Desert Stone Condominiums, a prime Central Phoenix community for $1.1 million ($84,615 per unit).
The 13-units at Desert Stone Condominiums were built in two phases in 1965 and 2003. The 1965-built portion was highly renovated in 2011 and 2012. The property is a well-maintained complete condominium community. Desert Stone consists of 2 rental buildings, a grassy common area and a sparkling swimming pool. The buildings are constructed of block and wood, with pitched asphalt shingle roofs. Each building is individually metered unit for electricity. The units feature abundant closet space, modern kitchens and bathrooms, and a fully enclosed one- or two-car garage. Seven of the thirteen condo units have washer/dryer connections and the remaining units have use of an on-site laundry facility.
The property is ideally located in an outstanding east-central Phoenix location near 16th Street and Bethany Home Road. Madison Rose Lane Elementary School is across the street, with easy access to a plethora of jobs, higher education schools, quality healthcare and shopping, the property is uniquely positioned for continued high demand.
The community has an attractive unit mix of one- two and three-bedroom unit types and sold as a value-added opportunity.
Terry Kass, Senior Vice President, and Alon Shnitzer, Senior Managing Partner, with ABI Multifamily facilitated the sale representing the buyer, Koventures LLC, based in Carlsbad, CA in the transaction. Buyer is an experienced multifamily investor with other condominium projects in the Phoenix market. This is the second recent purchase for this buyer through ABI Multifamily.
The sellers were private investors, Wei Zhou and Yuk Chiu Lou of San Diego, CA.
To learn more Kass can be contacted at 602.635.7431 and Shnitzer can be reached at 602.714.1283.