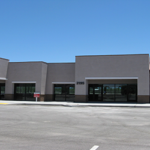 Egg Yolk Properties dba Desert Title & Tag (Brian Steele, member) purchased a building at Magee Corporate Center, 2195 W Magee Road in Tucson for $869,540 ($140 PSF) in shell condition. Desert Title & Tag plans to occupy half of the building and lease the other half of the 6,211-square-foot office building constructed in 2014.
Desert Title & Tag is a Third-Party Motor Vehicle Division (MVD) with locations in Mesa, Gilbert, Fountain Hills, Tucson, Show Low and growing. It provides vehicle services for individuals, dealers, and fleets to customers. Desert Title & Tag, provides services without the waiting in line for hours to get simple MVD procedures completed and ensuring you never have to dread the normal 'MVD experience' again.
A list of some of the most common services are replace lost or stolen license plates, renew vehicle registration, transfer vehicle title, reinstate suspended driver's license, issue bonded title, and issue VIN for custom vehicles, and print A Motor Vehicle Driver/Vehicle Record.
All can be completed at one of their locations, no appointment necessary. Stop wasting time – you never need to wait in line at your local noisy and packed MVD office again. Desert Title & Tag offers many services for indivudals to ensure their automobile's legal work is always up-to-date. When you visit one of our comfortable offices you can expect friendly service with little to no wait time. We are able to complete almost any normal MVD transaction and we do so in a fraction of the time you might spend at a normal congested MVD office.
Tom Nieman and Rick Kleiner, MBA, with Cushman & Wakefield | Picor in Tucson were the listing agents on the transaction.
For more information Nieman can be reached at 520.546.2728 and Kleiner is at 520.546.2745.
To learn more, see Red Comp #3365.