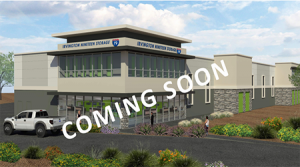 Tucson, Arizona –A self-storage developer has closed on the sale of their second Storage Development Opportunity in the Tucson market. The 3.15 acres at 1760 West Irvington sold fully entitled for a 3-story, two above ground, one below for a 100,000-square-foot building with 1,200-units to Gibralter Holdings LLC for $3 million.
The new facility will be managed by Life Storage, a real estate REIT specialized in the self-storage business.
Abraham Slilaty is manager for developer, working under various LLCs that have owned most of his land assets in Tucson for over 30 years. These sites have now become unique and strategically located within central areas of the City. Asset offerings are usually either CofO sales or Development Opportunity sales that include the land along with fully engineered and approved development plans including architectural construction documents, and third-party engineering reports, even underground soils & geotechnical studies. These properties more than "shovel ready" they are literally being sold ready-to-build with permit in-hand.
The seller / developer's first self-storage project was purchased in 2019 by a large private equity company. At the option of the buyer, the project was purchased as a Development Opportunity, whereby the buyer was able to break ground and oversee the construction themselves, yielding a newly constructed facility of 100,000 NRSF at a 45% discount from stabilized retail value. This property has been open less than a year and is being absorbed well with over 35% occupancy.
To complete the recent sale of their second project, also purchased as a Development Opportunity at the option of the buyer, the developer spent nearly two years navigating the long and difficult governmental entitlement process to the end point of pulling the building permit and negotiating the final construction contract. This approach allowed the buyer to have input early in the process and customize the design and unit mix to their choice – and allowed the buyer to break ground immediately following close of escrow; yield the buyer a newly constructed facility comprised of 100,000 NRSF at a 45% discount from stabilized retail value.
The developer continues to hold in its land asset portfolio several one-of-a-kind sites in the heart of Tucson with un-met demand for storage. Currently, two projects are underway in the design & entitlement stage being made available for sale as a CofO or Development Opportunity.
Bill Alter of Rein & Grossoehme Commercial Real Estate, LLC represents the seller in these transactions.
For additional information about this sale and current and future opportunities contact Bill Alter at 602-315-0771 or Bill@RGcre.com.
To learn more, see RED Comp #8493.