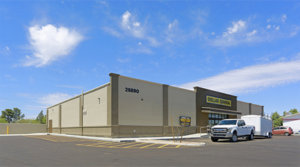 TUCSON, ARIZONA — Benson-DBS, LLC, a California investor from Rancho Mission Viejo, CA, purchased the brand-new Dollar General located at 28890 S. Nogales Highway in Amado, AZ.  The 9,100-square-foot Dollar General, that opened last week, was purchased from DCM Development Company, LLC for $1,642,800 ($180.53 PSF).  The store sits on a 1.8-acre site.
Dave Hammack, Principal and Retail Specialist with Cushman & Wakefield | PICOR, represented the seller in this transaction.
In a separate transaction, another Dollar General at 3436 N Country Club Road in Tucson sold for $1.670 million ($185.50 PSF). Built in 2014, this is the second time the investment property has sold with an absolute NNN lease term to the Rayner Family Trust from Palo Alto, CA.
The 9,002-square-foot building sits on a .8-acre site in central Tucson in a dense population area with approximately 113,236 people within a 3-mile radius of the site.
Dollar General is one of the largest dollar store chains in the US and a publicly traded company. It started in 1939 by J.L. Turner in Kentucky offering a broad selection of merchandise, including consumables, seasonal, home products and apparel at deep discounts.
From a net lease point of view, Dollar General is appealing given its lower price points, respectable sales record, and corporate expansion strategy in a growing market segment. Dollar General's new store model is approximately 9,100 square feet on approximately 1-acre of land to accommodate a minimum of 30 parking spaces. Dollar General net lease properties have high visibility and full ingress/egress along retail corridors with good traffic. Higher cap rates and lower price points result in a larger pool of qualified buyers.
All Dollar General net leases have a corporate guarantee and typically the newer stores are NNN with 15-year initial terms. New Dollar General's lease terms usually include 10% bumps every five (5) years and in options making it a passive investment deal for Out-of-State investors. A significant portion of the new stores are subject to build-to-suit arrangements.
At the end of 2018, Dollar General operated 15,227 stores across 44 states. In the first three quarters of 2018, Dollar General opened 750 new stores. Dollar General plans to open 975 additional stores this year.
For more information Dave Hammack should be reached at 520.546.2712.
To learn more, see RED Comp #6803 and #6750.