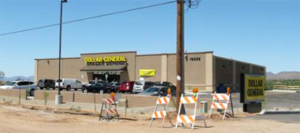 TUCSON, Arizona – DCM Development Company of Tucson (Chris Lechner, managing member) sold the newly constructed Dollar General store serving Picture Rock area at 6780 N Sandario Road in Tucson for just under $1.75 million ($194 PSF).
The 9,000-square-foot Dollar General store with 54,450-square-feet of land opened in October and sold as a true net lease investment with corporate guarantees.
Dave Hammack of Volk Company in Tucson represented the seller in this investment sale while the investor, Damco Arizona Properties LLC of Miami Beach, Fla. (Damon Giglio, managing member) was self-represented.
For more information, Hammack should be reached at 520.326.3200.
To learn more, see RED Comp #5329.
A second Dollar General sale took place in the little hamlet of Catalina.
The Dollar General store at 16355 North Oracle in Catalina sold for $1.75 million ($192 PSF). DCM Development also built this store in 2015 and then sold it to investor, Eight Bits LLC of Manhattan, NY.
Eight Bits recently resold the 9,100-square-foot building on a 47,292-square-feet lot to a group of private investors doing a 1031 exchange from Marina Del Ray, California.
Candace Bare with Marcus & Millichap in Las Vegas represented the seller in the transaction and Steven Schechter with Marcus & Millichap in Encina represented the investor.
For additional information, Bare should be reached at 702.215.7125 and Schechter can be contacted at 818.212.2793.
To learn more, see RED Comp #5261.