Unique "City Park" Food and Entertainment Hall, Creative Office Lofts and Outdoor Entertainment Spaces to Break Ground at 40 E Congress in Downtown Tucson
TUCSON, Arizona – Tucson-based real estate developer Bourn Companies, in conjunction with a group of investors from Mexico led by the Bours/Stamos Zaragoza family, announced ground breaking on a new 5-story mixed-use, transit-oriented development project in the heart of downtown at 40 E Congress Street in Tucson, being called "City Park".
This $18 million development will feature Tucson's first food hall (27,000-square-feet) with a collection of chef-focused culinary offerings, two outdoor patios, a rooftop deck totaling 31,650-square-feet, a second-floor entertainment zone with 6 lanes of upscale boutique bowling, various games, live entertainment space and a bar and lounge, in addition to the 42,400-square-feet in creative office lofts.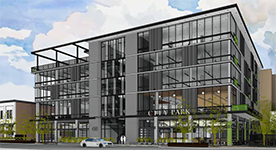 "City Park embodies the historical significance of a 'city park' and will create an urban oasis that provides this burgeoning community with a central place to meet, dine and relax," said Bourn Companies Founder and CEO Don Bourn. The building will feature concrete floors and ceilings, exposed ductwork, expansive glass, with the benefit of tall ceiling heights.
Bourn expects that City Park's food and entertainment hall's unique offerings will also draw more visitors and residents downtown. "We envision a fun, upscale environment which will cater to all ages and become an additional draw that will work in conjunction with all of the great existing offerings downtown," said Bourn.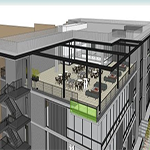 Sometimes referred to as the "Thrifty Block", formerly occupied by Thrifty Drug Store, Fields Jewelry and Little Café Poca Cosa, the project is between Stone and Scott within a short walking distance to the Tucson Convention Center, Children's Museum, and The Fox and Rialto Theatres, among other entertainment venues. "We expect over 400 employees working on site, which will benefit local businesses," said Bourn.
Food Halls have been one of the biggest trends in America and "our goal is to bring the best of class culinary talents under one roof in downtown Tucson," said Bourn. "The food hall allows restaurateurs to operate out of a smaller, more efficient footprint and benefit from cost synergies by sharing common area seating and front of house staff."
"We were fortunate to work closely with Rio Nuevo, the City of Tucson and our lender, Bank of Tucson, to continue the renaissance of downtown Tucson" according to Bourn.
For more information about City Park, visit https://www.bourncompanies.com/projects/city-park/