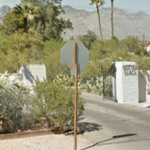 As revitalization of Downtown Tucson continues, we are beginning to see some revitalization spill over into a Tucson midtown area that involves an exciting luxury infill project. Potter Place LLC, a group of local investors formed by Miramonte Homes of Tucson, recently purchased 3 acres from the Arizona Inn Company for $1.35 million ($10.33 PSF) for an infill project of luxury homes in midtown Tucson.
Walkability when a reality and not just a euphemism for having Starbucks on the corner, is indeed a valuable commodity. It means that people can live in a location within the inner city that gains in value from its real-life proximity, time- and aggravation-saving through its nearness to things, people and urban attractions that draw people to them. All the reasons Downtown Tucson was revitalized in the first place and what we have all been waiting to see for so long.
The Potter Place infill project promises to be just that kind of walkable upscale, luxury development. Located across from the historic Arizona Inn, one of the most beautiful properties in Tucson, within walking distance to UMC and the modern streetcar with all that Downtown Tucson has to offer, this project would never have been conceived of prior to a few years ago.
The developer purchased the property for land value and plans to demolish the dilapidated (circa 1930) buildings that were left vacant for 25 years. Once removed, 11 detached semi-custom SFRs are to be constructed on the site. Final design for the project is still under development and pending plat approval, but so far we know that it is like nothing Miramonte has done before. Great effort is being taken to keep the property's mature landscaping that makes it invisible to the street behind an Oleander wall. Each home will be single story and range in size from 2,600- to 3,000-square-feet on 8,000-square-foot lots. Keeping with the Mission Revival Style associated to the historic Arizona Inn, the project promises high end luxury. Home prices are to range from $800,000 to $1 million, depending on amenities; this is not your typical Tucson neighborhood.
But developers believe the time is right for such an upscale urban neighborhood in Tucson. We spoke with one of the partners, Bob Gugino, who said, "We're excited about this project and expect it to set a new standard for infill development in Tucson. There is no other place for people to buy new, high-end semi-custom luxury homes within the City, and many people are interested in urban living near our downtown for many reasons."
"There is definitely something to be said for being within walking distance to the streetcar and minutes to get downtown, without having to park, to maybe just get an ice cream at The Hub or to  have dinner and a show," Gugino continued. "Many of us came from cities where we could walk or take public transportation everywhere and would love to experience some of that city-style living here."
This project is located between Blenman/Elm and Catalina historic neighborhoods, two beautiful upscale, older neighborhoods. The option of buying new construction with the maintenance of an older home is not an unreasonable notion for many.
By building all 11 homes at the same time, and not staggering the construction in stages, the impact to the neighborhood will be minimized. Construction is to start by the end of this year, with a Q4 2016 completion goal.
Jose Ceja of EXA Architects in Tucson is lead architect for this fresh new project,  the first to reach beyond the Rio Nuevo District and Downtown, opening opportunities for a larger city revitalization that brings with it access to the all the amenities we want. Infills don't get more exciting than this one! We'll do our best to keep our readers informed of its progress.
For additional information on this sale log in to see RED Comp #2897.