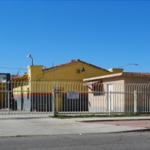 While Tucson is undergoing major infrastructure and urban development projects in its downtown core, there are also smaller scale revitalization projects happening in its uptown neighborhoods. Southwest Urban, a group of local investors, has been getting in on this urban revitalization and has two commercial projects underway.
The former automotive repair and tire shop at 901 South 6th Avenue sold for redevelopment to The Station on 6th Ave LLC, an affiliate of Southwest Urban Holdings LLC (Len Casebier and Adam Lundquist, members) purchased the property for $200,000 ($57.50 PSF).
The 3,478-square-feet former automotive-use building was built in 1936 and sits on a .28 acre with a wrought iron fenced perimeter.
The buyers plan to redevelop the property into a Bohemian coffeehouse or restaurant and give it a fresh new design, for serving fresh roasted coffee and espresso drinks and food in this great West University neighborhood, Casebier told us.
The buyers have been active for some time in urban redevelopment work in Tucson, both residential and commercial.
Casebier and Lundquist purchased the former Axle Transmission building in downtown Tucson this past November and have redeveloped it into artist studios. The historic 10,000-square-foot, brick building at 301 W 4th Street played host to a number of businesses throughout the years, with the most recent being a commercial truck repair and supply business. The warehouse-style structure with vaulted barrel ceilings and enormous beams & bolts was a prime candidate for urban renewal to recapture the functionality and relevance of the structure and to support area development and revitalization for an urban aesthetic as artist studios and common area for a public gallery display.
The location is prime, as one of the largest remaining undeveloped warehouse properties in the area. Situated next to the railroad tracks along Main Street, just north of St. Mary's (6th Street) in the neighborhood. A vibrant urban community that is highly sought after by owner-occupants and investors alike with its' close proximity to downtown, the University of Arizona, public transportation, the street car, urban activities, and bike routes. The property is also close to the new Downtown Links project that connects St Mary's Road to interstate I-10, and includes plans for an urban park and other venues.
Ron Zimmerman, Commercial Specialist with Cushman & Wakefield | Picor in Tucson represented the seller, Jorge Martinez of Tucson on the 901 South 6th Avenue property. The buyers, also licensed real estate brokers with Southwest Urban, were self-represented in the transaction.
For more information, Zimmerman can be contacted at 520 748-7100 and Casebier and Lundquist should be reached at 520.591.4553 for sale and leasing information.
To learn more, see RED Comp #3942.