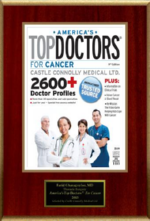 TUCSON, AZ, Dec. 3, 2013 - Castle Connolly Medical Ltd., America's trusted source for identifying Top Doctors, has published its 9th annual edition of America's Top Doctors® for Cancer and Farid Gharagozloo, MD of Tucson has been selected for inclusion.
The 9th edition of America's Top Doctors for Cancer includes over 2,600 top cancer care physicians in the United States. Selected physicians, including Dr. Gharagozloo, are among the top 1% of cancer doctors in over 40 specialties and sub-specialties for the care and treatment of cancer.
Castle Connolly Top Doctors® for Cancer are selected each year by Castle Connolly Medical Ltd. after being nominated by peers in an online nomination process. Nominations are open to all board certified MDs and DOs and each year tens of thousands of physicians cast many tens of thousands of nominations. Nominated physicians are selected by the Castle Connolly physician-led research team based on criteria including medical education, training, hospital appointments, disciplinary histories and much more.
About Farid Gharagozloo: a short profile by and about the honoree:
Doctor Gharagozloo graduated from Johns Hopkins School of Medicine, trained at the Mayo Clinic and Harvard Medical School. He is presently the Professor and Chief of Thoracic Surgery, Chief of Robotic Cardiothoracic Surgery, Chief of Esophageal Surgery and the Chief of the Southwest Thoracic Oncology Program at the University of Arizona Medical Center and Arizona Cancer Center.
For more information on this Castle Connolly Top Doctor for Cancer, please visit Farid Gharagozloo's profile on www.castleconnolly.com.
Castle Connolly Medical Ltd.'s President and CEO Dr. John Connolly has this to say about Dr. Gharagozloo's recognition: "The 9th edition of America's Top Doctors for Cancer, published in November 2013, is the most comprehensive guide of its kind and is the result of contributions from doctors and medical experts from across the United States. Dr. Gharagozloo was one of more than 2,600 cancer doctors nominated by Board Certified peers and selected by our research team at Castle Connolly Medical Ltd. Selection for the guide is an impressive accomplishment worthy of recognition. The United States is home to so many talented and committed cancer care professionals, yet some stand out. My congratulations to Dr. Gharagozloo."
To find out more or to contact Dr. Farid Gharagozloo of Tucson AZ, please call call (520) 626-6668.