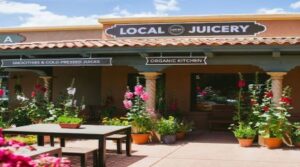 Local Juicery goes from renting to owning, and eyes future expansion, thanks to loan from Phoenix-based CDC Small Business Finance
PHOENIX, ARIZ. (Oct. 19, 2022) – Michael and Summer Sanders always dreamed of owning a business, not just leasing a commercial property that wasn't their own.
An SBA 504 loan allowed them to switch from renters to fully owning the business and property, thanks to CDC Small Business Finance. The Sanders, a husband/wife team that owns Local Juicery in Sedona, Arizona, were able to purchase the existing space they have leased since December 2014 with an SBA 504 commercial real estate loan.
The loan provides operations security, employee retention, space for expansion, and control of their commercial real estate needs, Michael Sanders said. He added that future expansion to an outdoor patio space will add value to the asset.
"It feels amazing to be able to use our space as we want and not have a silent partner with whom to make decisions," Michael Sanders said. "CDC Small Business Finance really helped manage our expectations and worked with us on the timeline and all the details. Their exemplary customer service made the process seamless; working through the application process, working with the lender, working through the funding process, and ultimately ending with a 25-year fixed rate."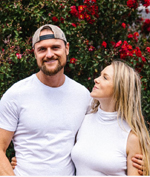 With loans such as the one facilitated for the Sanders, Phoenix-based CDC Small Business Finance continues to lead economic development in Arizona. It remains the No. 1 lender for the combined number of loans through Q4 of Fiscal Year 2022 (July-September), approving 99 loans totaling $95 million in the Arizona District.
CDC Small Business Finance is part of the Momentus Capital family of organizations, which also includes Capital Impact Partners and Ventures Lending Technologies.
The Sanders' retail building is located on the intersection of 3150 W. State Route 89A and 20 Dry Creek Road. The property consists of a 7,781 SF retail building with patio seating space. The patio is an essential part of the business operation, with an ambiance that helps attract customers.
Before founding Local Juicery alongside his wife, Michael Sanders was a Navy SEAL officer, honors graduate of the U.S. Naval Academy, and project manager for a national commercial construction firm building luxury retail stores for Tesla, Tory Burch, Zara, West Elm, William Sonoma, and Jenni Kayne.
Summer Sanders has been a chef most of her life. She trained with the famous plant-based chef Matthew Kenney for her initial training. She worked with him to start several restaurants in Los Angeles before moving into her own entrepreneurial endeavors as private chef for celebrity clients and starting her own restaurants.
"Our goal is to prequalify borrowers before identifying a property or entering a purchase contract. Michael and Summer provided a full financial package, which allowed us to structure the loan and work with their lender on a prequalification prior to negotiations," said Belinda Rosthenhausler, CDC Small Business Finance's vice president and commercial lender for Arizona and Nevada.

"The prequalification letter assures the seller of the buyer's ability to secure financing. SBA financing requirements are extensive and our partnership with lenders allow us to find the perfect fit. Every loan request is specific to the small business," Rosthenhausler said.
Local Juicery is just one example of how the SBA 504 loan structure continues to be in high demand, despite rising interest rates. The 25-year fixed interest rate option provides a controlled budget for business owners who are seeing lease rates continue to climb.
The Phoenix office comprises Rosthenhausler and Chris Bane, Vice President, Senior Commercial Lender.