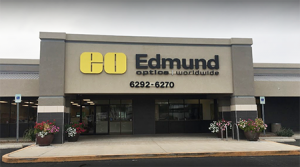 TUCSON, ARIZONA -- Edmund Optics, the premier provider of optical and imaging components, announced the opening of a new Assembly and Advanced Design Facility here in Tucson, where the company already has an established presence at 6274 E Grant Rd. in Tucson.
The 21,225-square-foot state-of-the-art facility expansion will support advanced design efforts and high-volume manufacturing services, including cleanroom assembly and incoming inspection with numerous testing capabilities such as MTF, straylight, thermal cycle, shock, and vibration.
Greg Hollows, Vice President of Edmund Optics' Imaging Business Unit, said of the new Tucson expansion: "We are pleased to be able to now provide additional design and assembly services for our customer's most demanding and complex applications."
In addition, 50 new technology jobs will be created in Tucson over the course of this year, including engineers, technical and skilled assembly talent.
In addition to business attraction, economic development is about relationships with local companies like Edmund Optics, helping them expand and grow high tech jobs right here in Tucson. We thank Edmund Optics for continued confidence in Southern Arizona and wish them much success in their growth plans.
Stephen Cohen, Principal, Industrial Properties with Cushman & Wakefield | Picor handled the lease transaction.
Project partners included the City of Tucson, Arizona Commerce Authority, Pima County and Cushman & Wakefield/PICOR.