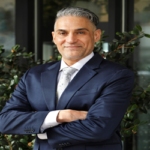 Investment sales specialist concurrently joins NAI Puget Sound Properties, serving the Pacific Northwest.
PHOENIX, ARIZONA (March 23, 2023) – NAI Horizon Principal Denise Nunez announced that Edward Milton, an investment sales specialist since 2015, has joined the NAI National Self-Storage Investment Group in Seattle and will represent buyers, sellers, and developers of self-storage facilities throughout the Pacific Northwest.
Concurrently, Milton has joined NAI Puget Sound Properties in Seattle and is licensed with the firm.
Milton is a knowledgeable and trusted real estate investment advisor specializing in the acquisition, sales, and development of self-storage facilities. He has worked in various aspects of investment property sales. More recently, he started to specialize in self-storage properties, including facilitating a self-storage property sale in Bend, Oregon, that totaled nearly 23,000 SF with 146 units for $4.2 million.
"Bringing Edward Milton on is a great expansion for the National Self-Storage Investment Group as the Pacific Northwest has increasingly become a very active region in the self-storage industry with private owner/investors, family-run self-storage operators, developers that specialize in the niche, and the public REITs that invest exclusively in self-storage," Nunez said.
Nunez, a Principal with NAI Horizon, is based in Phoenix and is the Executive Managing Director of the National Self-Storage Investment Group. She has worked in the self-storage industry for more than two decades and has closed transactions in more than a dozen states.
She is actively building out a national self-storage practice under the NAI Global brand. New York-based NAI Global is one of the most recognized brands in commercial real estate and operates more than 300 offices worldwide with more than 5,100 professionals. Annually, the company generates more than $20 billion in transaction fees and commissions.
In the coming months, Nunez added, she will announce additional members to her nationally focused self-storage team, and in different regions of the U.S.
Prior to moving to Seattle in 1995, Milton graduated from St. Lawrence University in Canton, New York, in the top 2 percent of his class, with a double major in environmental studies and psychology. While attending college, he played Division III football and competed in track and field. He also served as the president of his pledge class for Sigma Alpha Epsilon. Away from work, Edward enjoys traveling, hiking, and spending time with his seven children and beautiful wife.