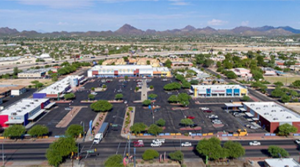 TUCSON, Arizona – A group of California and Wyoming investors came together in a 1031 TIC (tenants-in-common) to purchase the Fiesta Mercado Shopping Center at 2920-2980 S 6th Avenue in South Tucson for $7.75 million ($94 PSF). The 82,367-square-foot grocery story anchored center is located off I-10 and 6th Avenue, and was 82% occupied at time of sale.
Fiesta Mercado is anchored by a 47,835-square-foot Food City grocery store, a subsidiary of Basha's Inc. which opened its first store in Arizona in 1932, founded by brothers Ike and Eddie (Sr.) Basha. The company now serves every county in Arizona with 130 stores under the brands of Bashas', A.J.'s Fine Foods and Food City.
Food City specializes in high quality, Mexican foods, offering a full array of ethnic and Hispanic food varieties. Many stores offer both tortillerias and pharmacies. Bashas' continues to be family-owned and operated. Food City has been serving the Arizona community for over 60 years and was purchased by Bashas' in 1993.
Rent-A-Center began with eight stores in 1986, Rent-A-Center (NASDAQ:RCII) is now the largest rent-to-own operator in the U.S. with an approximate 34% market share based on a store county of 2,863. Rent-A-Center has a market capitalization of ±$1.79 billion and annual revenue of ±$2.33 billion.
Other tenants in the center include:
Casa Lee, a clothing boutique specializing in both men's and women's clothing along with jewelry and other accessories. Casa Lee has a second location at the Fry's Shopping Center at I-19 and Ajo Way.
TitleMax of Arizona has been providing the residents of South Tucson at this location since 2011 and offers fast cash for car and motorcycle loans.
Jackson Hewitt Tax Service, Inc. (NYSE:JTX) is the second largest tax preparation service company in the United States, with over 6,800 company -owned offices in 49 states and DC and is a privately held company.
Little Caesar's Pizza, the fourth largest pizza chain in America, was founded in 1959 in suburban Detroit by Mike and Marian Illitch, whose family still owns and operates the business. The company consists of approximately 2,850 company-owned and franchised locations around the U.S. and on 5 other continents.
Casa de Nails is a locally owned nail salon offering a full line of nail services, including manicures, pedicures and acrylics.
Montanos Fashion, a highly acclaimed bridal store in the Tucson area that carries quality bridals dresses, formal dresses and supplies and a vast selection of tuxedos for men.
The Primavera Foundation, a local nonprofit, providing pathways out of poverty through safe, affordable housing, workforce development and neighborhood revitalization. Primavera provides sustainable homeownership opportunities in Tucson.
Express Location is a leading premium retailers provider of T-Mobile USA with 129 locations throughout the western states.
El Coco Loco is a local Mexican food restaurant with a great reputation for authentic Mexican food serving the South Tucson area.
Wingstop, a national food chain that in the "flavor business" not just the wing business. Wingstop is the destination when you crave fresh wings and their famous sides!
Chad Tiedeman, John Schweikert and Dan Gardiner with Phoenix Commercial Adivisors handled the sale for buyers and seller, Fiesta Mercado ST, LLC of Fountain Hills, AZ (Garo Demirjian, member).
Gardiner told us the property sold stabilized at market cap rate with a value-add component for the investors in the vacancy. It was a good match for both buyer and seller.
Premiere Commercial Management of Phoenix has been retained to manage the center.
For more information, Tiedeman can be reached at 602.288.3472, Gardiner should be contacted at 602.734.7204 and Schweikert is reachable at 602.957.9800.
To learn more, login and see RED COMP #4971 and for more properties like this, see RED Listing Registry.