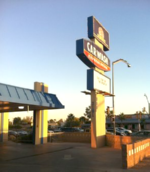 Wash Depot Holdings, Inc. of Malden, MA, dba Simoniz Car Wash, sold its final car wash location in Tucson to National Retail Properties, LP of Orlando, FL. Simoniz car washes has completed a portfolio sale of 30 locations. Twenty of these were sold within one month of coming on the market in AZ, TN, TX, GA, MN, MO, IA, IL and FL. Prior to putting the 30 car washes on the market, Simoniz had 80 locations across the U.S.
The sale price for this site was $1.25 million ($419 PSF) plus approximatley $1.25 million more for the business and equipment.
The Simoniz Car Wash location at 3101 E Speedway Blvd. in Tucson was purchased by National Retail Properties and will leased to Car Wash Partners dba Mister Car Wash for undisclosed lease rate and terms. This is the company's eighth location in Tucson.
Mister Car Wash and Mister Express Lube Centers are owned by Car Wash Partners' ("CWP") companies (Ron Peterson, chairman), and also do business under the brand of Mister HotShine.
Mister Car Wash had earlier purchased the two Simoniz sites at 4941 N Oracle Road and 2409 N Kolb Road in Tucson for $2.832 million. More information on these prior sales can be found here.
Vinny Carfora with Car Wash King of Florida, a licensed real estate broker in 38 states specializing in car wash sales handled the transactions for both buyer and seller.
Carfora told us he uses an EBITDA method, an acronym for earnings before interest, taxes, depreciation and amortization for calculating value to these car wash listings. According to Carfora, he has many more buyers waiting than sellers in today's market.
Carfora should be contacted at (954) 540-3330 for more information or visit www.carwashking.com