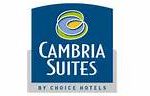 Choice Hotels International, Inc. (NYSE: CHH), one of the world's largest hotel companies, and O'Reilly Hospitality Management, LLC, a prominent hotel and restaurant developer and management company based in Springfield, Mo., Tuesday announced the expansion of the upscale hotel brand, Cambria Suites, into the Phoenix market. The four-story, 121-room Cambria Suites Phoenix-Desert Ridge is the first of the brand in Arizona, and is the second of two Cambria Suites to be developed and managed by O'Reilly Hospitality Management. The announcement also revealed that Cambria Suites Phoenix-Desert Ridge will be home to the brand's national training kitchen and provided a first look at newly crafted banquet and events menus, both overseen by acclaimed celebrity Chef Michael DeMaria."The Cambria Suites brand is generating an impressive amount of excitement for Choice Hotels International. From industry experts' commentary to guests' reviews, the concept continues to earn top marks," notes Stephen P. Joyce, president and chief executive officer of Choice Hotels International. "With a first-rate development and operating partner like O'Reilly Hospitality Management, we anticipate the momentum will continue to grow as Cambria Suites expands into new markets."
Noted for an award-winning design, all Cambria Suites are new-construction properties featuring a variety of public spaces for guests to refresh, refill and reflect. From a state-of-the-art fitness center and a relaxing pool to a 24-7 sundry shop and a welcoming dining area, Cambria Suites blends style, form and function.
"Cambria Suites is an exciting brand with fantastic accommodations, amenities and a guest experience all specifically tailored for today's broad spectrum of hotel guests," reflects Tim O'Reilly, chief executive officer of O'Reilly Hospitality Management. "What a privilege to join forces with a team so committed to guest satisfaction and brand success. We look forward to bringing our award winning O'Reilly Hospitality development and operations teams and culture to the Cambria Suites brand to serve the Phoenix community."
Conveniently located in one of the largest master-planned communities in Arizona, Cambria Suites Phoenix-Desert Ridge is just minutes from the popular shopping and entertainment destination of Desert Ridge Marketplace, major employers, the Mayo Clinic and Choice Hotels International Western Corporate Headquarters.
"Cambria Suites Phoenix-Desert Ridge is in a prime location to meet the in-bound travel needs of surrounding employers like American Express, Henkel and Mayo Clinic," says Michael Murphy, Senior Vice President of Cambria Suites. "Our sophisticated guest experience and appealing balance of amenities are designed to satisfy the business traveler."
Choice Hotels International selected award-winning chef, and 2002 inductee to the Arizona Culinary Hall of Fame, Chef Michael DeMaria to develop and manage the culinary program for the Cambria Suites brand. In this role, Chef DeMaria will create appealing cuisine for all Cambria Suites core and urban core a la carte menus, approve all local and regional additions to individual property menus, lead the instruction of future Cambria Suites' culinary teams in the national training kitchen and manage the revitalized banquet and events culinary program.
With a resume that includes events ranging from intimate social engagements to the PGA Tour's Phoenix Open, Chef DeMaria tailored the Cambria Suites reimagined culinary program to bring a new level of sophistication to the group business sector. The banquet and events menus offer a wide range of flexibility and creative ingenuity available in contemporary buffets for groups large and small. Selections include hors d'oeurvres like savory mushroom and basil meatballs with morel sauce in sleek white spoons, martini-glass salads with a colorful beet and goat cheese combination and half-cut burgers on a carving block display.
"Transforming the urban a la carte menu into the banquets and events selections allows Cambria Suites kitchens to dish out high volumes of exceptionally prepared, mouth-watering dishes while positioning the staff for success," explains Chef DeMaria, Cambria Suites consulting chef and owner of M Catering by Michael's. "Guests will enjoy their favorite signature plates while meeting and event planners will enjoy the exceptional value."