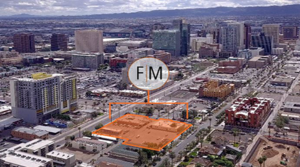 Phoenix, Arizona  – SVN Desert Commercial Advisors completed the sale of First McKinley, a development site located at the NWC of 1st Ave. and McKinley St. in downtown Phoenix. The property was acquired for $7 million by development group, First McKinley Owner, LLC. Specifics on the proposed development will be announced at a future date.
The Seller, Drapac Capital Partners, originally acquired the property in November of 2013 for $1,880,000 with a long-term vision of the development potential of downtown Phoenix and more particularly Roosevelt Row. Sebastian Drapac states, "There was a lot of irrational negativity when we bought the site, but it was clear how undervalued downtown Phoenix was. The city has rapidly urbanized and the demand for quality sites with the right ingredients has driven values, and we believe it's only the start."
First McKinley consists of six individual parcels totaling 1.68 acres of land. Existing zoning allows for mixed-use, high-rise development.
Justin Horwitz and Paul Borgesen III of SVN Desert Commercial Advisors negotiated the transaction on behalf of the Seller. Horwitz and Borgesen have completed upwards of $100 million in transactions with a heavy focus in central Phoenix. "We are excited to be a part of yet another significant development site in the downtown Phoenix submarket. There is so much positive momentum along Roosevelt Row and downtown in general and this will be yet another project that will solidify downtown Phoenix as the true central core of the city," stated Horwitz.