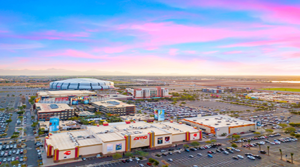 PHOENIX – CBRE Executive Vice President Philip D. Voorhees announced today that the National Retail Partners-West (NRP-West) completed the sale of the 533,116-square-foot Westgate Entertainment District in the Phoenix metro area for $133 million. The sale of the premier 46.6-acre property, listed by CBRE since April, also includes 30-acres of undeveloped land located on the north side of the property.
CBRE retail experts Jimmy Slusher, Kirk Brummer, Sean Heitzler and Voorhees of NRP-West, along with Jesse Goldsmith, Steve Julius and Bryan Taute with CBRE's Phoenix office, represented both the buyer and the seller. YAM Westgate, LLC, a venture formed by Scottsdale, Arizona-based YAM Properties, purchased the entertainment, retail and office destination located near the Loop 101 and Glendale Avenue from The New Westgate, LLC, formed by iStar Properties, Inc.
"It was fantastic to see a local firm committed to excellent projects in Phoenix and surrounding communities prevail in this marketing process," said Voorhees. "Westgate's prior ownership positioned the property perfectly for this sale, with the asset providing an ideal combination of high-performing, internet-resistant dining and entertainment uses, income stability and growth from the dining, retail, office and apartment use types, and with future development components as well. It will be exciting to follow YAM's evolution of the Westgate Entertainment District in the years to come. YAM is the perfect owner for this property."
Open since 2006, Glendale's Westgate Entertainment District offers more than 40 retailers and restaurants including a 20-screen AMC Theatre, Dave & Busters and Yard House. The center also includes 159,026 square feet of Class A office space as well as 76 luxury multifamily lofts located on the upper floors. Nearby attractions include Gila River Arena, University of Phoenix Stadium and Tanger Outlets. The property also offers immediate access to the Phoenix metro region via Loop 101.
"With less than two months on the market, Westgate's status as a peerless mixed-use asset in Arizona and across the western U.S. presented investors with a unique opportunity to acquire a property of its size and caliber that also offered tremendous upside potential," said CBRE's Goldsmith. "The availability of additional land to develop combined with a proven record of tenant performance helped ensure strong investor interest."
The West Valley is one of the fastest growing areas of greater Phoenix and is projected to outpace the U.S. annual rate of growth, according to CBRE Research. Already, more than a third of the Phoenix metro's population, or 1,623,473 residents, live in the West Valley.
With this closing, CBRE's NRP-West team topped $10.6 billion in successfully closed retail investment sale transactions. More information is available at www.cbre.com/nrpwest.