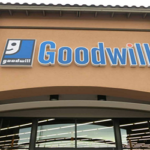 TUCSON, Arizona — Larsen Baker is pleased to announce the sale of a ±15,629-square-foot building on ±1.4 acres of land located at Sorrento Square on the southwest corner of Golf Links Rd. & Houghton Rd in Tucson to Goodwill Industries of Southern Arizona. The purchase price was $3.676 million ($235 PSF).
Built in 2013, the property was purchased by the tenant, Goodwill Industries of Southern Arizona, that has occupied since constructed for a Goodwill SuperStore. Goodwill Industries has 19 stores across Southern Arizona with 16 Retail Thrift Stores, 2 Outlet Stores, and 1 GoodThreads Boutique.
The property is the only Goodwill Thrift Store in the Vail area. This store claims to have one of the biggest selections of clothing and furniture of any of the Goodwill retail thrift stores. It is always a popular place on sale days and especially during the Halloween season. You will always find a great deal or two and of course shopping at Goodwill supports the community and reduces waste. Last year thanks to donations, Goodwill was able to keep over 28.5 Million pounds out of local landfills. It was also able to serve over 1,000 youth and 10,000 adults right here in Southern Arizona.
Andy Seleznov, CCIM, and Melissa Lal, CCIM, of Larsen Baker represented the Landlord, Larsen Baker, while Dave Blanchette with NAI Horizaon represented the Tenant.
For more information, Seleznov and Lal can be reached at 520.296.0200 while Blanchette should be contacted at 520.326.2200.
To learn more, see RED Comp #5309.