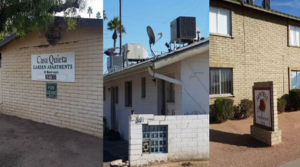 Phoenix, Arizona — ABI Multifamily is pleased to announce the $4.7 million / $62,667 per unit sale for a combined 75-units to Grand Canyon Univeristy (GCU).
Sale includes the 40 unit – Suntree Apartments, 32 unit – Casa Quieta Apartments and 5101 N 28th Dr., a tri-plex located in Phoenix, Arizona.  The three contiguous properties are all garden-style communities that rest on approximately 3.41 acres, built of block construction with pitched roofs and individually metered for electricity.  The combined properties boast an attractive unit mix of 15 – 1-bedrooms and 60 – 2-bedroom unit types with a weighted average size of 737-square-feet.
"Over the last several years, and to accommodate surging enrollment numbers (upwards of 25,000 students are expected by 2020) GCU has pursued an aggressive acquisition policy purchasing upwards of 100+ acres in the last 2 years alone," states John Kobierowski, Senior Managing Partner at ABI, and lead broker representing the Seller.  "The Seller was offered a very attractive price for the land and GCU is one step closer to controlling the entire area surrounding its main campus, definitely a win-win for both parties."
The Buyer is Grand Canyon University.
The Seller is a private investment company based in California.
The multifamily brokerage team of John Kobierowski, Alon Shnitzer, Rue Bax, Eddie Chang and Doug Lazovick represented the Seller in this transaction.