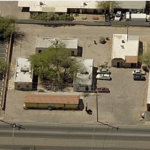 BASAD, LLC (Eric Laytin, Manager) purchased the property located at 4224-4228 E. Grant Road Tucson, consisting of 4,514-square-feet of building space in five buildings on 24,640 square feet of land, from Londer Living Trust (Carol L Wells, Successor-Trustee). The property commanded a sale price of $175,000 ($7.10 PSF) and sold for land value.
The property was fully leased at time of sale, but with the Grant Road widening project from Oracle to Swan Road progressing, the property is in the Phase 3 & 4 Phase Alvernon / Swan scheduled for 2017-2021.
Laytin, founder of Tucson-based Brake Masters, also owns the Brake Masters store at 4260 E Grant Road and purchased the property for future expansion for this Brake Masters store, as will be needed when the road widening occurs. In the meantime, the property will continue to leased.
Frank Arrotta of Tucson Realty & Trust Company in Tucson represented the seller and Peter Canacakos of Long Commercial Group represented the buyer in the transaction.
Canacakos said he is working with several sellers along Grant Road and the buyer was attracted to this property being one lot away from the existing store for future expansion. Since the property is income producing in the meantime, it just made a perfect match.
For more information on the Grant Road Widening Project, go to https://www.grantroad.info/
For additional information, contact Canacakos at 520.918.4831. Arrotta can be reached at 520.877.7000.
To learn more, see RED Comp #3939.