Initiates southern portion of 63-acre flex industrial project in Gilbert, Arizona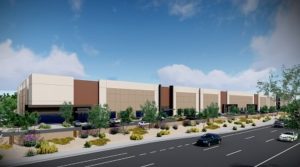 PHOENIX, Arizona – On behalf of SunCap Property Group, Graycor Construction Company has started construction on a new, 135,745-square-foot flex industrial building at the Gilbert Spectrum industrial project. The building kicks off development in the southern portion of the 63-acre project, which is situated at the southwest corner of Elliot and McQueen roads in Gilbert, Arizona.
The building, known as Building One, is one of five new buildings – totaling more than 435,000 square feet – that SunCap will initiate at Gilbert Spectrum as the market demands. At build-out, Gilbert Spectrum will include more than 800,000 square feet in eight to ten buildings that range in size from 60,000 to 200,000 square feet and include office and flex industrial build-to-suit opportunities.
"Gilbert is experiencing significant demand for industrial space, particularly among small and mid-size users wanting to be near major transportation corridors and to capitalize on this area's skilled employment pool," said Todd Ostransky, Graycor Construction Company Vice President of the Southwest Division. "Building One is already partially pre-leased to SDHQ Off Road, which underscores that demand. As SunCap continues to build at this site, they will be able to monitor market demand and adjust the mix of office and flex industrial product at Gilbert Spectrum to meet those needs – something that SunCap does very well."
"We believe the Gilbert Spectrum location provides a unique opportunity for businesses to benefit from a 360-degree customer and employee base," said SunCap Property Group Senior Vice President – Development Mike Orr. "The location, coupled with the business-friendly environment in the Town of Gilbert, provides prospective tenants with access to an educated and diverse workforce and last-mile opportunities unparalleled in the Southeast Valley."
Building One fronts McQueen Road and features a 32 foot clear height, 40 dock high and four grade level loading doors, and ESFR sprinklers. Off-road vehicle supplier SDHQ Off Road is leasing 28,000 square feet in the building, with the additional space being developed on a speculative basis, divisible down to 15,000 square feet. Building One is scheduled to complete in late July.
Gilbert Spectrum is already home to a 58,289-square-foot build-to-suit "Satellite Engineering Building" for Northrop Grumman Innovation Systems (formerly Orbital/ATK). Built by Graycor in 2017, the one-story, Class A office building mixes open collaborative areas, task-specific work zones and a state-of the-art Sensitive Compartment Information Facility (SCIF) approved for highly classified activity.
Chris McClurg and Ken McQueen of Lee & Associates are the exclusive listing agents for Gilbert Spectrum.
Graycor represents 98 years of building experience and employs more than 1,500 construction experts. Locally, the Graycor legacy extends over more than three decades, with a portfolio that includes Prologis Park Riverside, Liberty Logistics Center II, 10 West Logistics Center (Phase I awarded Best of NAIOP AZ Spec Industrial Project of the Year), Gilbert Spectrum Business Park, East Valley Commerce Center, Chandler Airport Center, AMC Esplanade Fork and Screen Conversion, Buckeye Logistics Center, Camelback Collective, JW Marriott Hotels & Resorts Camelback Inn Renovation, Salvation Army Southwest Divisional Headquarters and women's shelter, FedEx Chandler Sorting and Distribution Center, Home Depot Distribution Center, Mountain Vista Medical Office Building, and Sunrise Assisted Living of Chandler. Tenant improvement and interior deliveries include Davis at Hayden Ferry Lakeside, StitchFix.com, InEight Hard Dollar and Southland Engineering at Papago Buttes, which was named among the Top 10 Offices in Arizona by AZRE Magazine.