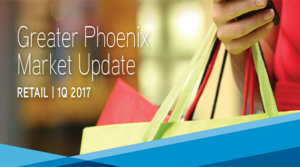 Net Absorption Outpaced Expectations and Vacancy Declined in First Quarter.
PHOENIX, Arizona -- Colliers is reporting the first three months of 2017 brought robust net absorption to the Phoenix retail market, according to a report released by Colliers International in Greater Phoenix.  Net absorption outpaced expectations, vacancy dropped lower and asking rents elevated, which all contributed to an optimistic outlook for the remainder of the year.  To view the entire report, click HERE.
Net absorption in the metro area exceeded 700,000 square feet during first quarter.  During the past 12 months, tenants have expanded occupancy by nearly two million net square feet of retail space.  This marks the strongest quarter of tenant move-ins in more than a year.  Net absorption has averaged approximately 500,000 square feet per quarter over the past five years and the first quarter is traditionally the weakest of the year.
Strengthening tenant demand has prompted some new construction of retail space.  More than 1.7 million square feet of retail space was under construction in 2016 and the city is forecast to reach approximately 1.4 million square feet underway in 2017.  The additional inventory these new projects bring will likely slow the pace of vacancy improvement, even considering healthy tenant expansion.
Vacancy of Greater Phoenix retail space dipped 20 basis points in the first three months of the year to 9.3 percent.  This rate is 10 basis points lower than a year ago.  Vacancy is improving at a modest pace and is at its lowest point since late 2008.
Asking rental rate trends have been mixed by individual submarket and are rising when you consider the entire metro area.   Asking rents in the Greater Phoenix area overall reached $13.98 per square foot in the first quarter, which is up 1.7 percent over a year ago.  Tenant expansion in the East Valley is driving rents higher.  Rents in that area spiked by 6.5 percent in the past year to $13.81 per square foot.
Sales of shopping centers were steady from fourth quarter 2016 to the first quarter of 2017.  The median price dipped to $102 per square foot and cap rotes rose to an average of 8.2 percent.  The mix of properties that sold during the first three months of this year influenced the price and cap rate trends.  The beginning of this year saw a decrease in sales of properties priced over $10 million.
Colliers International forecasts a healthy year of improvement for the retail market in 2017.  Annual net absorption has averaged two million square feet over the past five years.  Preliminary estimates call for a higher total this year.  Ongoing employment growth is supporting a strengthening retail economy and an additional boost will likely come from an improving housing market.  New home sales often drive additional retail spending and last year brought a spike of more than 30 percent in new home sales.  In 2016, the population of Maricopa County expanded by 82,000, the largest increase of any county in the United States at that time.  Despite these traditional drivers of retail being strong, there are some market forces that could drag on the retail sector in upcoming months.  Traditional retailers, especially those that occupy large spaces, are facing increased competition from e-commerce.  Declining margins because of this competition is causing concern.  Sears announced concern about the future of the company in its current form.  While no store closures have been announced in Phoenix, the company has a large local presence with more than 750,000-square-feet of space in Phoenix, Glendale, Chandler and Mesa.