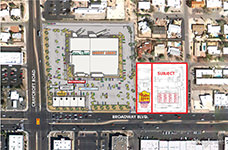 TUCSON, Arizona — BV Investment Limited Partnership, LLLP and WV, LLC (Steve Shenitzer and Bill Viner, principals) bought the El Pollo Loco restaurant ground lease at Broadway Festival, 5601 E Broadway Blvd in Tucson for $1.36 million ($42.33 PSF) from CP Venture Partners, LLC and Shenitzer Properties, LLC.
El Pollo Loco's fast food restaurant is a 2,991-square-foot restaurant built in 2016 on this 32,137-square-foot pad with a leased fee interest in the land. Sellers purchased the 1.9 acre property in 2015 for retail redevelopment of Broadway Festival.  See Church Relocation Leads Way for New Broadway Retail Redevelopment, February 25, 2015.
Located near Park Place Mall, the project was rezoned and fully pre-leased to three national tenants within a year of the purchase and construction was underway for El Pollo Loco, Blaze Fast Fire'd Pizza and Krispy Kreme Donuts. See Tucson Redevelopment of Former Church Site on Broadway Fully Leased, February 11, 2016.
Nancy McClure and John Ash with CBRE in Tucson handled the marketing and leasing of the project for the developers.
Max Freedman of Sands Investment Group (SIG) in Texas handled the sale of the El Pollo Loco ground lease.
For additional information, McClure can be contacted at 520.323.5117, Ash is at 520.323.5177 and Freedman can be reached at 512.766.2711.
To learn more,login and see RED Comp #2624 and #4750.