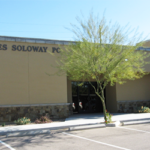 TUCSON, Ariz. – Hayes Soloway, a Tucson-based law firm that has secured more than 3,000 patents over 35 years for independent inventors worldwide, has renewed its lease of 9,170-square-feet at 4640 E Skyline Drive for five more years. Bob Davis and Tom Hunt of Tango Commercial Real Estate represented both the landlord and the tenant.
"I enjoy working with Tango because they understand the needs of all businesses, from startups to multinational corporations, which is something I can relate to," said Nick Soloway, founder of Hayes Soloway. "They make the lease process both seamless and enjoyable."
Hayes Soloway recorded its first patent with the USPTO in 1979, claiming a method for producing a deodorant using hops for Dr. Joseph Owades and his client, S.S. Stiener, Inc. Dr. Owades would go on to receive international recognition for utilizing hops in a more traditional manner, becoming known as the "Father of Light Beer" and contributing to the development of the Samuel Adams Lager. Hayes Soloway assisted Dr. Owades in obtaining more than a dozen beverage-centric patents.
On March 25th, 2014, Hayes Soloway obtained its 3,000th patent and the count is not complete. Officing at 4640 E Skyline Drive in Tucson since 2011, Hayes Soloway continues to work with clients both domestic and abroad to protect intellectual rights of inventive entrepreneurs.
"Being both a patent attorney and serial entrepreneur, I know firsthand the necessity and value of intellectual property protection that companies must have," Nick Soloway professes on his website. "In today's global marketplace, it has become even more important that the product be protected with patents, trademarks, copyrights and trade secrets. Without this protection, products or technologies are vulnerable to being copied and produced by competitors. All too often the innovator does the creative and the missionary work, only to witness an imitator enjoy the financial rewards."
Tom Hunt of Tango comments, "Nick plays an instrumental role in the entrepreneurial community, something Tango appreciates and supports. It was an honor assisting him in this renewal process and we wish him continued success."