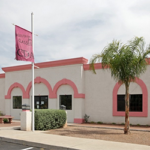 Nathan and Deanna Sherman of Heart and Soul Kids Activity Center purchased the property located at 5741 N. Oracle Road, Tucson, Arizona, formerly Kandice Meinel's Creative Dance Arts, a 6,000-square-feet facility in two buildings on a 34,894-square-fet lot. The property commanded a sale price of $703,205. ($117 PSF).
Deanna Sherman opened Heart and Soul, at its current 4,000-square-foot location at 8363 N Oracle Road in Oro Valley at age 23 just 2-1/2 years ago, 3-miles north on Oracle Road and has grown enrollment to over 600 beautiful children in that short period.
Heart and Soul provides a wide variety of children's educational programs. Children learn and grow in a safe, encouraging environment of fine and performing arts, learning advancements, and physical activities. High importance is placed on setting and accomplishing goals, character building, self-esteem, and developing life-long values in a family environment. With an emphasis on small class sizes, teachers get to know the children personally and take great pride in the individual communication and personal touch achieved.
"We are busting at the seams in our current location and we feel honored to be inheriting a part of dance history," said Deanna Sherman. "Kandice Meinel's Creative Dance Arts operated for years from this studio and was one of the oldest running dance companies in Tucson."
Sherman told us the new location will be converted into four studios, three for dance with state-of-the-art dance floors and the fourth converted for pre-school gymnastics. "Our current location will then be used for 'gymnastics-only'," said Sherman.
With the added space, a competitive dance program, called Heart and Soul Dance Project will also be added, a wholesome dance company whose desire is to stand out by talent. The elite, professional staff strives to nurture and grow not only the children's talent, but their self-esteem, self-respect, and self-worth.
"Believing in the power of hard work, dedication, and commitment to perfecting our craft, we hope to inspire your children to do the same. We applaud true artistry and encourage positive self-expression. Our curriculum serves children as young as one-year olds through to adults," Sherman said.
The Grand Opening of the new location is hoped to be by the end of July, with classes starting in August.
Frank Arrotta and Michael Gross of Tucson Realty & Trust Co. represented the seller and Scott Sherman of Sherman Properties, LLC, represented the buyer in the transaction.
For more information, Gross and Arrotta should be reached at 520.577.7000.
To learn more, see also RED Comp #3914.