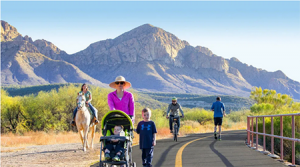 The Chuck Huckelberry Loop has been nominated for a USA Today 10 Best Readers' Choice Award as one of the Best Recreational Trails in the United States!
If you love The Loop, let the rest of the nation know. You can vote once a day, per person before Feb. 14.
The Chuck Huckelberry Loop in Tucson comprises 130 miles of paved paths and bike lanes (with more on the way). The path is open to cyclists, walkers, runners, horseback riders or skaters and connects parks and trailheads throughout the city.