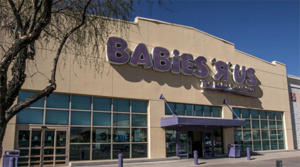 Commercial Real Estate Firm to Invest $75 Million in Next 12 Months
TUCSON, ARIZONA -- Heslin Holdings, Inc. a privately owned commercial real estate investment and development firm, purchased a second big box for redevelopment recently in Tucson. In October, we reported Helsin acquired the 35,000-square-feet former Safeway building at 5548 E Grant Road in Tucson.
The following month, Heslin purchased a second big box store, the former Babies"R" Us at 4619 N Oracle in Tucson for $3.4 million ($92.48 PSF).  The 36,763-square-foot property on 2.59 acres was sold by Wells Fargo Commercial Mortgage Service that bought it out of bankruptcy for $2,631,644.
The retail space at 4619 N Oracle is located across from the Tucson Mall and a 211,152-square-foot, single-tenant office building occupied by Comcast in a high density retail area.
The acquisitions were part of a larger plan by Heslin to invest $75 million in retail properties over the next 12 months. Both properties were purchased for conversion into Chuze Fitness Centers.
"Heslin Holdings is aggressively looking for retail acquisitions, such as this one, in key metro markets in the western United States," said Casey McKeon, vice president of acquisitions for Heslin Holdings said regarding the purchase of the Safeway. "Shifts in the retail marketplace continue to open up opportunities to reposition quality older assets for increased ROI."
"Our firm has re-worked a number of similar spaces and been successful at attracting quality tenants back into these properties, to the benefit of the local community," said Matthew Heslin, principal and CEO with Heslin Holdings. "With so many larger retailers going out of business, or reducing many of their physical real estate locations, there's a heightened need to reimagine these assets."
The firm continues to pursue additional value-add commercial property opportunities throughout the country, with an emphasis on the Western U.S. growth regions where market fundamentals such as positive employment, housing and retail indicators support the firm's value-add investment strategy.
To learn more, see RED Comp #6357.