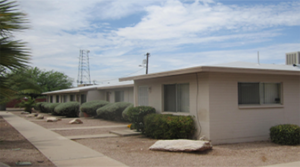 TUCSON, ARIZONA – A California investor, LV Management, LLC purchased Highland Park Apartments at 1402 E Manlove Street in Tucson for $3.3 million ($55,100 per unit).
Chris Itule with Long Realty represented the seller, Highland Park Apartments, LLC and Jake Arnold and Ben Riehl of Keller Williams in Tucson represented the buyer in this  off-market transaction.
The 47,216-square-foot complex was built in 1962 on 2.8 acres with 61-units in central Tucson. The property was 96% occupied at time of sale with 49% one-, 23% two- and 28% three-bedroom units.
Itule said, "The principals of Highland Park Apartments LLC acquired the property in February 2017. The previous management group had mismanaged the property for years creating the perfect scenario for a value- add play."
"Having worked with the Apex Team in the past I reached out to Ben Riehl & Jake Arnold and we were able to put a deal together for this off market property," Itule added.
"The buyers interest in the Highland Park Apartments was a result of the proximity to the University of Arizona and Downtown Tucson. With a top 20 research institution less than a mile away and a growing downtown around the corner Highland Park Apartment's location is very appealing to a large tenant pool," says Arnold.
Riehl added, "The location combined with the overall economic growth in Tucson made this deal very attractive to the buyers."
For additional information, Itule should be reached at 520.577.7400. Arnold and Riehl can be reached at 520.615.8400.
To learn more, see RED Comp #5205.