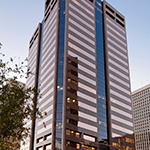 PHOENIX, Arizona – Hines, the international real estate firm, announced it has renewed a long-term 11,976-square-foot lease for the Greater Phoenix Economic Council (GPEC) at Renaissance Square in Phoenix.
GPEC, which has been in Renaissance Square since its inception, will continue occupying its space on the 25th floor. The organization renewed an 8-year lease and is updating the office into a more modern and collaborative space.
Hines acquired Renaissance Square in 2008. The two-building office complex in downtown Phoenix is bounded by Adams, Central and Washington streets and 1st Avenue, and has 968,790 combined square feet.
"Hines is thrilled to retain GPEC, a long-standing tenant that makes a significant impact in the community," said Steve Hamel, Hines' general property manager of Renaissance Square.
"The location of One Renaissance Square provides a centrally located office space for the various stakeholders from the private and public sector around the region to participate in the work that GPEC is undertaking, a factor that was incredibly important in the selection process," said Chris Camacho, president & CEO of the Greater Phoenix Economic Council.
Pat Devine with Cushman & Wakefield represented the landlord. Andrew Cheney with Lee & Associates represented GPEC.