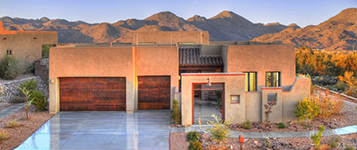 Homebuilders enthusiastic for more lots last month were DR Horton, Maracay Homes and Insight Homes. In three separate transactions, only 37 lots sold during the month of January in the Tucson metro area with half in the Northwest and half in the Westerly submarket of Tucson.
NORTHWEST SUBMARKET
Insight Homes of Tucson (Mike Jones, manager) purchased 12-SFR lots at the new La Canada Ridge for $1.23 million ($102,000 per lot). The lots were platted and engineered and buyer had an option for an additional 21-lots from Sharpe & Associates of Tucson (Bob Sharpe, manager) Insight Homes is a custom home builder in Tucson, Oro Valley, Marana and Dove Mountain. La Canada Ridge is a 33-SFR development, located southwest of Moore Road and La Canada. Ted Herman with Sharpe & Associates represented the seller and Ben Becker with CBRE in Tucson represented the homebuilder. For more information see RED Comp #2401.
Maracay Homes took down an additional 6 finished lots at Tortolita Vistas as part of a 54-lot rolling option with Ready Eight Corporation, an affiliate of Cottonwood Properties (David Mehl, manager) for $945,765 ($157,628 per lot). With this purchase, Maracay has taken down 19-lots in this gated community since October 2013 when the option began. These over-sized one acre home sites feature lush desert open space. Conveniently located just north of Tangerine Road on Thornydale Road in Marana, the Tortolita Vistas community is set in the foothills of the Tortolita mountain range, surrounded by stunning views. Will White and John Carroll of Land Advisors Organization in Tucson represented Maracay in the transaction. For more information see RED Comp #2397.
WESTERLY SUBMARKET
Tierra Valencia of Tucson, an affiliate of the Estes Companies (Bill Estes III, manager) sold 19-SFR lots at Eagle Point Estates to D.R. Horton in Tucson (Brent Davis, Division President) for $712,000 ($37,500 per lot). This is the first takedown of an 83-lot option agreement at Eagle Point Estates, located to the Northwest of Valencia and Vahalla Roads in the West Tucson submarket. The 19 finished lots total 4.96 acres. Dan Feig and Aaron Mendenhall of Chapman Lindsey represented D.R. Horton.  For more information see RED Comp #2407.
To learn more Ted Herman can be reached at 520.299.8766. Ben Becker is at 520.323.5100 and Will White and John Carroll should be contacted 520.514.7454.
Login for more information.
[mepr-show rules="58038"] # 1 sale above: Insight Investment Company was buyer at La Canada Ridge. Sale date: 1/2/2015. Fidelity Title Trust #60,217 Sharpe & Associates, beneficiary and the seller. Exact sale price was $1,260,720,Down Payment was $1,020,000. The sale price has broker's commissions included. APNs: 219-49-104 thru 115.
#2 sale above: Maracay 91, LLC was the buyer. Sale date 1/5/2015. Sale price: $945,764.60, down payment: 890,764.60. There are fees for infrastructure included in sale price that make the price per lot different in each take down. APNs: 219-36-014, 045, 046, 048, 066 & 092 all over 1 acre in size irregular lots.
#3 sale above:  D.R. Horton was the buyer. Sale date: 1/13/2015. Sale price $712,500 all cash. APNs: 210-15-304 thru 306, 321, 322, 779 thru 785, 792 thru 796, 798 & 805.[/mepr-show]