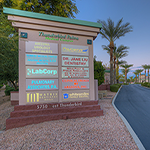 GLENDALE, AZ – The transaction included a 47,254-square-feet controlling interest of prime medical office space within Thunderbird Palms Medical Campus. Five of the eight buildings comprising the Campus sold for $10,850,000 ($229.61 PSF). The Thunderbird Palms offering represented a rare opportunity to acquire modern, net leased, hospital adjacent, medical office buildings, on fee ground with no hospital use restrictions. Developed in 2001, Thunderbird Palms is a 70,230 total square foot, eight building, single-story, garden-style medical campus on 8.34 acres, located directly across Thunderbird Road from Banner Thunderbird Medical Center. At 561 beds, Thunderbird Medical Center is the second largest campus in the Banner System, the fourth largest in Arizona by bed count, and third largest in Arizona by patient discharge volume.
Managing Principals Charles Bruni and Neal Smaler acquired the buildings at over 90 percent leased at close of escrow, an occupancy average the project has sustained over its 15 year lifetime since its 2003 purchase from the project's original developer.
"We are excited to have completed the Thunderbird Palms acquisition. Its superior location and proven user appeal are ideally representative of the Healthcare Real Estate assets we are targeting for additional acquisition," said Bruni.
The Seller, represented by Braxton Glass, Vice President at ORION, was locally-based 5750 W. Thunderbird Road, L.L.C. Arroyobel TPMC Property LLC purchased the building, based out of Flagstaff. Buyers were represented by George Long of Ross Property Advisors LLC.
"With the Healthcare Real Estate Sector fully recovered and Mr. Hardaway's companies' real estate holdings and acquisitions activities now exclusively focused on other areas of the country, despite the excellent overall performance of the asset, a divestiture was a better strategic fit with Mr. Hardaway's future objectives than continuing to hold a single asset in this market without the inherent benefits of scale," said Braxton Glass.
Glass continued, "That the position had not traded once since its purchase in 2002 as newly delivered product and has averaged over 90% occupancy over that period is a testament to the degree to which its location and design appeal to the target healthcare user base."