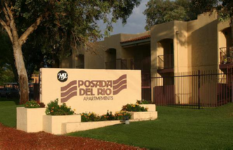 Rio Properties an affiliate of HSL Properties, Inc. (Humberto Lopez, principal) sold Posada Del Rio Apartments at 7424 E Speedway Blvd. in Tucson for $8.1 million ($50,625 per unit) for the 160-unit apartment complex (built 1980) and purchased The Station on Central, a 414-unit apartment complex (built 1999) at 4140 N Central Avenue in Phoenix for $53 million ($128,019 per unit).
The buyer of the Tucson property was Radium Investments I, LLC (Kevin Szymanski, principal) of Phoenix. The seller of the other was North Central Avenue Apartments LLC, formed by Baron Properties in Greenwood Village, Colo. (J. Jeffrey Riggs, Scott Fisher, T.J. Tarbell, principals).
Maricopa County records show HSL Station on Central LLC, an affiliate of HSL, acquired the project with a $39.24 million loan from Compass Bank. In May 2011, the Baron Properties company paid $36.5 million ($88,164 per unit) to buy The Station on Central. The complex was originally named Jefferson on Central.
The Class A property is just north of Indian School Road and is adjacent to a METRO light rail station. The luxury one-, two- and three-bedroom units fit in well with HSL Properties 10,000 + unit multifamily portfolio.
With the acquisition of The Station on Central, HSL Properties owns 42 apartment projects in Arizona. Of those, 8 are located in the Phoenix market, 32 are in the Tucson area and the privately-held HSL has 1 multifamily community in Casa Grande and 1 in Yuma.
The Phoenix transaction was negotiated through Brad Goff, Dave Lord of Apartment Realty Advisors in Phoenix. The Tucson deal was handled by Art Wadlund of Berkadia Real Estate Advisors in Tucson
HSL Properties is looking to buy additional apartment projects in Arizona.
To find out more Omar Mireles of HSL Properties can be contacted at (520) 322-6994. Or learn more by Goff and Lord at (602) 252-4232. Wadlund should be reached at (520) 299-7200.