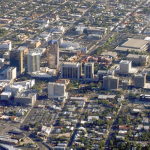 It is election season and several recent events have the Tucson real estate community coalescing to hold elected officials accountable. We elect leaders to represent a broad spectrum of community stakeholders, not measured by the loudest voice at public meetings. However, a small group of vocal NIMBYs (Not in my back Yard) are reaching outside their own neighborhoods and finding a broader reach within the community.
Let me be clear, I don't have anything against NIMBYs, I actually think they serve a purpose in every community. My unease is in the fact that we don't elect these people to represent us and yet they are making decisions for us.
NIMBYs taken at face value, want the status quo, so much so that they convert to irrational in their opposition to any and all projects, to the point that they express anxieties over even small or benign neighborhood changes. There's nothing rational about wanting to keep a boarded up gas station, and prevent a McDonalds from being built in its place, a zoning downgrade in effect. However, that's exactly what happened this week and Tucson's elected officials should be held accountable.
See letter from property owner "to prevent any whitewash of the circumstances".
I may deserve criticism for assigning too much sophistication to the part of NIMBYs in Tucson, one seldom hears them express even a single idea that their opposition is based on financial risk aversion. NIMBY's seem to find it kind of gauche to speak of financial considerations, as if to do so they might appear to be selfish capitalists. But, financial issues clearly are at stake, for NIMBYs have their home values in mind and believe any change would affect them financially. The worsening of the economy and the lack of leadership seems only to have made NIMBYs even more anxious to instinctively fight for the status quo. They do not consider change might bring betterment and progress and cling to the idea that "no change" is safer. That's why we see so few renter NIMBYs.
NIMBYism regards the status quo as the current use (or non-use) of land in their community. They want it left the way they found it. The challenge is convincing them that a more reasonable status quo is the long-standing zoning rules and ordinances that apply to the neighborhoods. If zoning creates, as I think it does, a sense of entitlement, then that entitlement belongs as much to the owners of the undeveloped parcels, or redevelopment in this case, as to the owners of the homes that were developed under the same rules years earlier. For this to happen however, we need City leaders.
To do otherwise, is counter-productive for all stakeholders. McDonalds would not have spent 778 days or the owner, $250,000 out of pocket, if they had been told up front on day one that 'it won't matter what any City staff says, the final decision on zoning applications comes from anonymous NIMBYs'.
McDonald's was yesterday's news, I only wish we could have made a difference. Today, we need to refocus on new discussions of downsizing of the Broadway Corridor Expansion Project Plan at a Public Meeting Thursday, April 23, 5:30-7:30 p.m. at the Sabbar Shrine Hall, 450 S Tucson Blvd. Please come in support.
The real estate community should be applauded for their letter, and all the other letters taking action in support of zoning entitlements.
City of Tucson
Mayor and Council Members

April 22, 2015

Re:  Broadway Corridor Downsizing

Dear Mayor and Council Members

Please consider this a letter to encourage you to NOT support the downsizing of the Broadway Corridor Expansion Project Plan. The needs of the entire region and community should be given greater weight.  We're sure those businesses along the corridor will be justly compensated. This is a community project not a neighborhood project. Further, the voters already voted on the size and scope of the project. We don't understand why the City of Tucson thinks they should be changing what the voters already approved. This is progress, which our City really needs to stay competitive with other cities our size in the Southwest. It will lead to the gentrification and investment in the area. We learned this from the Speedway widening, and from what has happened in other cities. This is the front door and gateway to downtown Tucson. The renaissance of the east end of downtown is something our whole community is proud of and most of us enjoy and it is land locked.  The Broadway widening project will help push through what is happening on the east end of downtown, down Broadway, as it is the major corridor leading into downtown.

Therefore, again, we encourage you to resist the temptation to change the plan. Keep us moving forward.

Craig Finfrock and James Robertson, Jr, CCIM
All this, despite the campaign promises we hear each election, about Tucson being "business friendly". We just might be better off if we were voting for the NIMBYs; at least then we would know who was actually calling the shots, for transparency sake and a healthier democracy.
Won't you join us? The Public Meeting will be Thursday, April 23, 5:30-7:30 p.m. at the Sabbar Shrine Hall, 450 S Tucson Blvd. Let's keep moving forward.