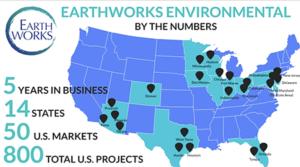 MESA, ARIZONA – Five years ago, Cherie Koester left a prominent job with Maricopa County to start her own business. From her residence in Queen Creek, Koester founded Earthworks Environmental LLC.
As the woman- and minority-owned environmental consulting firm celebrates its fifth anniversary, the Mesa-based company now boasts 36 employees and almost 800 projects across the country.
"While our 5-year celebration is local, I'm extremely proud of my staff for the expansion we've made across the country," said Koester, who holds the title of CEO.  "The culture we have created here strives for excellence.
"Last year I said I was prepared to go the distance with this team of elite professionals. I also said I have no plans of slowing down. Earthworks has achieved that goal and more," she said.
Earthworks Environmental operates in Arizona, Florida, Maryland, Delaware, Pennsylvania, New Jersey, Ohio, Indiana, Illinois, Minnesota, Wisconsin, Iowa, Colorado and Texas. Its Arizona projects are in Phoenix, Tucson, Prescott and Yuma.
Services provided include stormwater pollution prevention, Phase I and II Environmental Site Assessments, dust control, and construction safety compliances. The firm primarily serves land developers, vertical developers, commercial construction, and land-holding companies.
"I'm excited to announce a new service line – drone inspections," Koester said. "With drone inspections, our clients get access to these videos for their own marketing materials if they would like."
Koester said the firm is consulting on nearly 800 permits nationally. Recently she hired two additional employees in the Arizona office. Founded in 2014, Earthworks Environmental expanded its operations to Florida and added two employees at its Arizona office in late 2016.
A proprietary program that Earthworks Environmental employs – ERX – has also played a key role in the expansion, Koester said. ERX is an environmental reporting software program that puts all aspects of environmental compliance into one program. This includes any permits and inspections. Koester said nearly 75 percent of the violations in her industry occur in the paperwork process.
A client can hire Earthworks Environmental to handle the entire process including ERX. A client may also decide to opt out of the consulting and use ERX themselves. In that case, Earthworks Environmental will apply a nominal fee for use.
"My motto is, 'I don't demand perfection but I do expect excellence,'" Koester said. "At Earthworks, we pride ourselves on being the leader in the industry for technology and customer service. We look forward to the next 5 years."
To learn more about Earthworks Environmental visit earthworksenv.com.