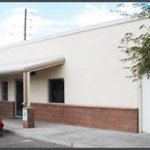 Charges 2 LLC (Brandon Rodgers, member) purchased a 5,000-square-foot industrial building located at 1140 N Rosemont Blvd in Tucson from Richmond Hills Investments LLC (Jesse Chen, trustee) for 343,000 ($69 PSF). The buyer purchased to lease property.
Built in 1998 the industrial warehouse building is on a 19,424-square-foot lot zoned C-2. The buyer purchased it for lease.
Brandon Rodgers, CCIM, Principal with Cushman & Wakefield | Picor, represented and was a principal in the buying entity and James Robertson, MBA, CCIM, with Realty Executives Tucson Elite represented the seller in the transaction.
For additional information, Rodgers can be reached at 520.748.7100 and Robertson should be contacted at 520.878.1629