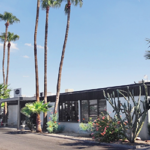 PHOENIX, AZ – A bus transportation company, Divine Bus Transportation, purchased a property at 2239 N. Black Canyon Hwy. in Phoenix for $2,875,000 ($49.82 PSF) in a transaction that closed on October 9th.
Lee & Associates Principal Matt Hobaica represented the seller TKW Properties, LLC (Trucks West). Greg Dodge with Cushman & Wakefield represented the buyer, Michelangelo Leasing (Divine Bus Transportation).
The centrally located property, built in 1960, offers abundant features such as 8,600-square-feet of office, 1-17 frontage, new roof and energy efficient lighting, heavy power, Nineteen grade level doors, 16' clear height, six drive through truck service bays and 5 cranes. The property sits on 6.2 acres and is zoned A-2.
Lee & Associates Arizona specializes in providing exceptional commercial brokerage services to the industrial, office, land and investment sectors of the Phoenix commercial real estate market. The Phoenix office was established in 1991 and is now recognized as one of the most successful brokerage firms in the state. Each of the Lee & Associates offices nationwide has a strong local ownership combined with a powerful platform from the national Lee & Associates network.
For more information contact Hobaica at 602.954.3755